The WeGo platform "connects" vehicles and makes them accessible to a larger group of users. By automating management and use, the fleet is optimally utilised. Our technology offers fleet managers and mobility providers many new opportunities.
White-label platform for car, moped and bike sharing
The WeGo platform consists of a back office to manage your fleet and an app that allows users to reserve a vehicle. This software makes sharing cars, bikes and other means of transport very easy.
The platform is flexible and can be adapted to the needs of your organisation or business. Would you like an app with your own logo and corporate identity? Link the technology with existing software? Or use automated functions, such as checking driving licences or processing invoices? It's all possible with WeGo's white-label sharing platform.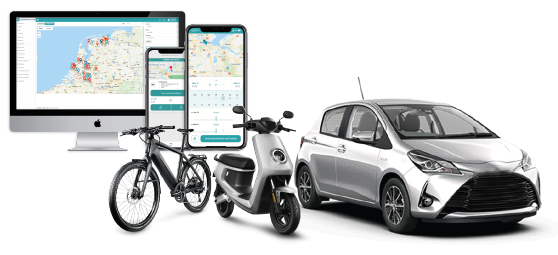 WeGo Telematics
Reliable data and secure communication
To connect vehicles to our platform, we use telematics. We install a black box with on-board software. This technology communicates with the vehicle, provides location data, records trip data and ensures that vehicles can be unlocked and locked remotely.
Journey recording
Vehicle data
Unlocking system
Immobiliser
WeGo Admin tool
Overview, insight and control over vehicles and users
The administration tool is an online environment where everything concerning vehicles, functions and user rights is defined. For example, who may use which vehicles at which rates. Business trips and private use are automatically differentiated, booked and charged to the correct cost centre. In addition, the management tool offers reports for managing, analysing and optimising fleet use.
Tailor-made
Vehicle and user management
Invoicing per cost centre
Reporting
WeGo App
Reserve and open a vehicle with the app
The app provides everything users need to schedule a car and start the booking process. The app is the digital key to opening and closing vehicles. Has a vehicle been damaged? Then this can also be registered directly in the app. After the trip, the booking is automatically processed and the kilometres driven are recorded.
Planning and reservation
Opening and closing (digital key)
Register damage and maintenance
Driving licence check
WeGo support
Maxiumum support for both administrators and users.
In addition to the best telematics and software technology, we offer additional services. So that you can concentrate on your daily business, we are happy to take care of the platform, vehicle and user management - if you wish. Our support team is available 24 hours a day, 7 days a week to help drivers with questions or problems on the road. Do you charge users for trips? If so, we can also take care of the accounts receivable management for you.
Support for administrators
24/7 support for drivers
Vehicle and user management
Accounts receivable management
Good to know
Our solution is...
Vehicle and make-independent
We don't provide cars or bikes, but connect vehicles to our platform - regardless of make or model. From individual vehicles to large fleets and both new and existing vehicles - you manage all vehicles in one clearly laid out platform.
Available in your own corporate identity
The platform can be customised with elements of your corporate identity, such as logo, colours and company language. This also applies to the layout of the management tool and the app, but also to the layout and content of the emails sent from the platform.
Ready to connect to your corporate systems
Via API links, the WeGo platform can be integrated with your ERP systems such as HR, finance, planning and authentication software. Connections to payment providers can also be realised.
Multilingual and internationally scalable
Our platform is used in several countries and is therefore ideally suited for international use. The app as well as the back office and system notifications are currently available in Dutch, English, German, French, and Polish.
Applications of our platform
Interested?Get in touch with us!
We are happy to advise you in detail.